Portfolio
The following is intended to provide an outline illustration of some of the projects Rachel has recently undertaken. If you require any further examples or illustrations of her work please do not hesitate to get in touch using the details on our contact page.
Tourism Guides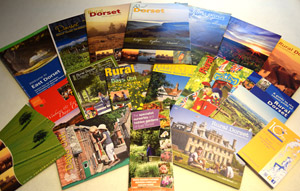 During her 20 years in the local tourism sector Rachel has produced a wide range of literature from DL leaflets to 60+ page brochures.
As well as the traditional tourism guides, Rachel has worked alongside local businesses and organisations to produce a number of targeted publications such as the Wimborne Minster Shopping Guide, a leisure guide to Ferndown, Christmas event listings and a leaflet on the Specialist Nurseries and Hidden Gardens of the area (further details below).
Rural Dorset Literature Exchange
Established in 2007 the Rural Dorset Literature Exchange brings together local visitor attractions and accommodation providers, assisting the former to distribute information more widely and to speak directly to those hosting visitors to the region. Accommodation providers in turn, were able to learn first-hand about facilities and developments at local attractions as well as obtaining details of attractions and events for their premises.
The event brings together tourism businesses from across the Dorset and New Forest areas, acting as a regular networking event for providers. The Literature Exchange has continue to evolve through regular consultation with the Rural Dorset Attractions Partnership, a local consortium of visitor attractions, whose feedback has been crucial in shaping the event.
East Dorset Nursery Trail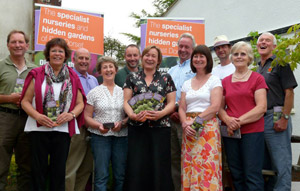 Working alongside some of the region's leading horticultural specialists Rachel produced a marketing campaign to help raise the profile of the area's specialist plant nurseries.
The project centred on a printed leaflet and local and regional garden shows which Rachel booked and attended on behalf of the nurseries.
In addition, the project involved the creation of a facebook page, press features and BBC radio interviews and, in 2014, will see the launch of a new Plant Fair.
Sting in the Tale, a festival of stories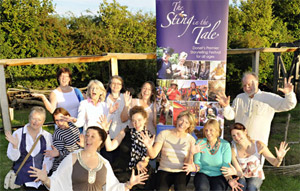 Established in 2004, the Sting in the Tale festival is now an eagerly anticipated event on the festival calendar. One of the leading storytelling festivals in the country with over 30 events each year catering for a wide variety of audiences including adult specific performances as well as children and families focused activities.
Rachel has been involved in the festival since its launch, providing event planning and administrative assistance as part of a very active organising committee. In particular Rachel has provided the research and feedback material to help support funding bids and to ensure the festival continues to evolve. She has also worked closely with the team on marketing, brochure design and content and venue liaison.
Workshops
Aimed at assisting smaller tourism businesses, Rachel has organised a range of training courses and workshops over recent years. These have included social media courses, customer care training, retail merchandising and leaflet/brochure design. Rachel has handled all the arrangements and been involved throughout each session, identifying particular training needs, finding good quality tutors/speakers, booking venues, issuing invitations and ensuring events run smoothly.