About Us
White Sheep is the concept of Rachel Limb. Rachel graduated from Bournemouth University in 1991 with an Honours Degree in Tourism Studies and a Post Graduate Diploma in Marketing from the Chartered Institute of Marketing.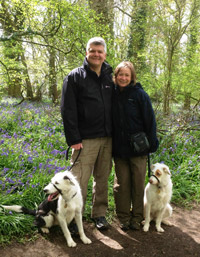 Following her graduation Rachel joined Dorset Tourism, the County Council's tourism service, until 1993 when she spent a year working and travelling in Australia. On her return she became the Tourism Manager at East Dorset District Council working with colleagues at East Dorset and across the County to promote both the District and Dorset as a whole.
Whilst working at East Dorset Rachel took a year out to travel the world with her husband Paul. The wonderful people they met and cultures they experienced gave her new perspectives, hands-on experience of tourism and leisure in other countries and a genuine interest in meeting and assisting people.
In the course of her career Rachel has produced a variety of guides and leaflets, organised and hosted trade events and training courses, including social media workshops and the annual Rural Dorset Literature Exchange. She has attended exhibitions, planned and instigated marketing campaigns and worked across a wide range of sectors, from tourism and leisure to retail and horticulture. Rachel's approach is open and straight-forward; she is a people person who enjoys working with others to bring about positive results for their business/organisation. She does not believe in doing anything in half measures and likes to make sure a job is finished to everyone's satisfaction.
What We Do